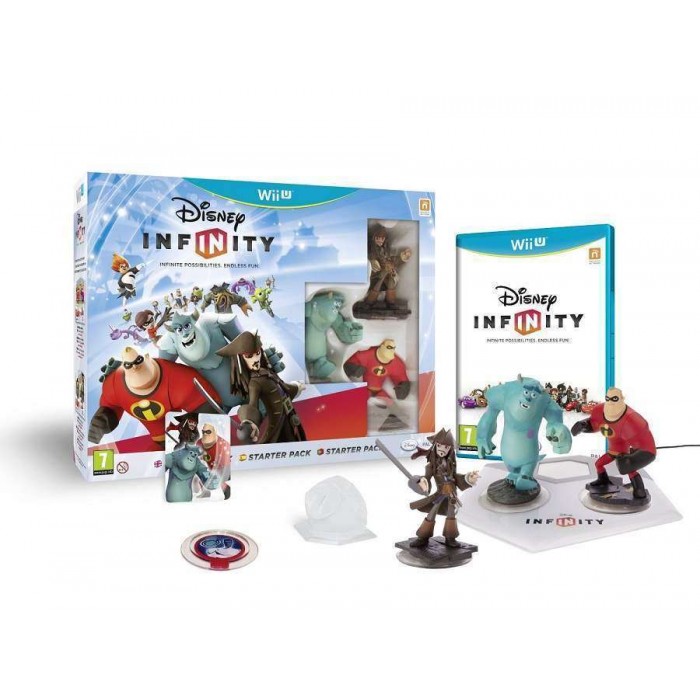 Disney Infinity Starter Pack
Stock:
Brand: Sony
Reward Points:

100

Model:

WiiU

Weight:

0.20kg
Price in reward points: 12500
Introducing Disney Infinity – a new video game where a spark of imagination unlocks the freedom to play with some of your favourite Disney and Disney/Pixar worlds like never before!
Play in their worlds. Place your Disney Infinity Figures onto the Disney Infinity Base to jump into a Disney Infinity Play set and experience original adventures in the worlds of Monsters University, Pirates of the Caribbean and The Incredibles.
Take on the role of Sulley, the naturally gifted 'scarer'; become Captain Jack Sparrow, the sword-wielding pirate; or transform yourself into Mr. Incredible, one of the world's greatest crime-fighters.
Battle enemies, solve puzzles, overcome obstacles and complete a variety of other unique quests.
Or create your own world! Unlock virtual toys from each Disney Infinity Play set – characters, buildings, weapons, gadgets and more – and bring them into the Disney Infinity Toy Box where you can mix them all up to create your own game.
In the Disney Infinity Toy Box, there are no rules and you can create any adventure you want. It's up to you and your imagination!
Share your one-of-a-kind creations with your friends with up to 4-player co-op play!
Collect more. The more you play, the more you unlock. And the more you have, the more possibilities for play!
You can also add new Disney Infinity Play sets and Figures. Or take your Disney Infinity experience to a whole new level with Disney Infinity Power Discs – an all new way to unlock character powers, fun gadgets and new ways to customise your world.
The story never ends. The Disney Infinity Starter Pack is just the beginning, with many more Disney and Disney/Pixar characters and worlds coming soon, giving you infinite ways to inspire your imagination!
Box Contains
Disney Infinity video game
Disney Infinity Base
3 Disney Infinity Figures: Mr. Incredible, Jack Sparrow, and Sulley
3 Disney Infinity Play sets: Monsters University, Pirates of the Caribbean, and The Incredibles
Your first Disney Infinity Power Disc
Unique web codes to unlock content online