23 Jan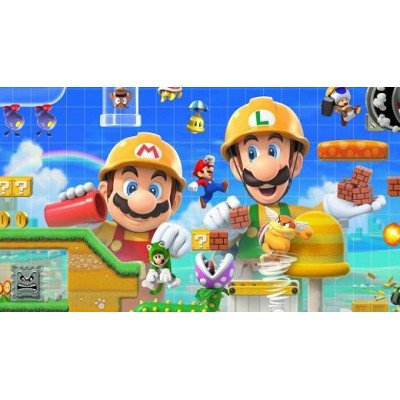 سوبر ماريو ميكر ٢


لعبه متكامله و مثاليه لدرجة انك مش هاتقدر تبطل تلعبها
لانها بترجعك للعب ال تو دي بلاتفورم ده بالإضافة لطريقة لعب كو اوب جديدة
هاتقدر تبني مستويات في اللعبه و تلعبها ، و اعمل ال سايد سكرولينج كورسز ألي بتحلم بيها ل سوبر ماريو
اغطس ف السنجل بلاير مود عشان تبني تاني قلعه برينسس بيتش واكتر من ١٠٠ كورس بمساعده ال كورس ميكر ألس بيديك أدوات و اجزاء للبناء متنوعه.
و تقدر كمان تدي الچوي كون لحد معاك و تلعبوا ف ال كو أوب مود على نفس الجهاز او اونلاين و تشوف و تستمتع ب عالم ملىء ب المحتوى ،
و تقدر كمان تشارك الحاجات الي بنيتها و تواجه تحديات لا نهائيه
اللعبه دي هاتقعد تلعبها مئات الساعات و مش هاتشبع منهاو دلوقتي مع اخر تحديث نزل للعبه ماريو ماكر علي السويتش
هايلبس لبس لينك من لعبه زيلدا و هايبقى معاه كل ترسانة الأسلحة بتاعت لينكسيوف و سهام و قنابل
و قدرات القتال و القذائف دي هاتخليك تقدر تضيف بعد جديد للمستويات الي بتصممها و تقدر تعمل لعبة اكشن ادفنتور
Make it your way, play it your way

Let your imagination run wild with new tools, course parts, and features. This sequel to the Super Mario Maker game launches exclusively on the Nintendo Switch system.



Make

Unleash your creativity and create the Super Mario courses of your dreams!


Play

Choose your way to play, whether it's teaming up to play courses you've made or tackling the 100+ courses in the new single-player Story Mode.


Share

With a Nintendo Switch Online membership, you can download and share courses, play online, and more!


Multiplayer

Play with others, either in person or online**.
Share the fun

New World Maker mode, new course parts, and more added with free update



Super Mario Maker 2 on Nintendo Switch Arabic Trailer by Liana