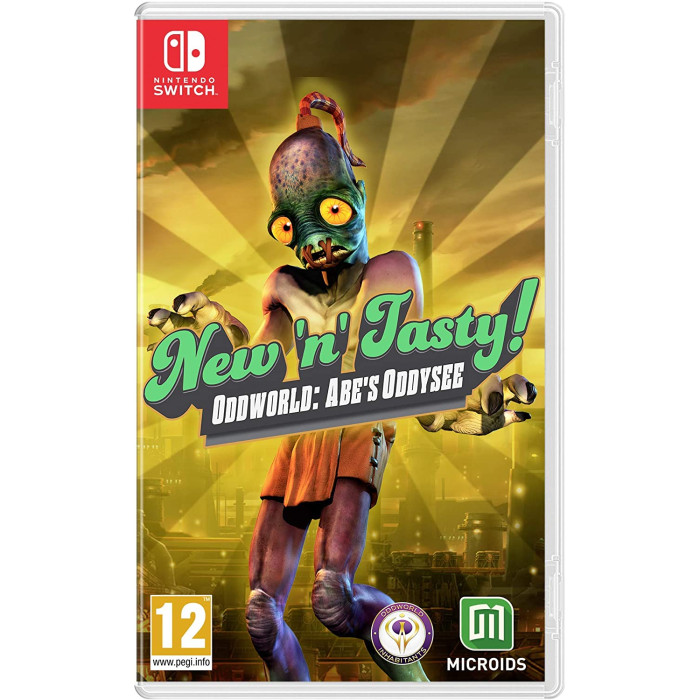 2-3 Days
New N Tasty! Oddworld: Abe s Oddysee - Standard Edition (Nintendo Switch)
Stock:

2-3 Days

Model:

Switch Game

Weight:

1.00kg

SKU:

B08FTQHZQF
Price in reward points: 14000
New 'n' Tasty - oddworld: abe's oddysee is a remake of the popular original game - oddworld: abe's oddysee

completely re-made from the ground up.

puzzle platformer with two control schemes, to appeal to modern gamers and also provide for those who prefer a more digital approach.

gorgeously imagined 3D environments that add depth to the side-on 2D gameplay.

innovative gamespeak system that allows communication with NPCs, audio Password input, issuing commands, etc
Oddworld: new 'n' Tasty is a ground-up remake of the seminal puzzle-platforming adventure, oddworld: abe's oddysee. It totally recreates the atmosphere of that much-beloved classic in gorgeous HD aesthetic that caters to modern gamer's sensibilities.
the game's protagonist, Abe, is a hapless, clumsy schmuck. He doesn't want to be a saviour, he never thought he could be a hero. But one day he stumbles upon a ghastly plan to convert him and his co-workers into delicious meaty snacks and knows he must escape. Once free from immediate danger, he discovers he has a greater destiny and must return to free his kind from slavery.
while new 'n' Tasty is a remake of a beloved classic, it uses none of the original assets. It is entirely rebuilt, from the ground up, to appeal to modern players with modern control schemes and stunning HD visuals.
Box Contains
Game Cartridge
Package Dimensions :
17 x 10.5 x 1 cm; 80 Grams
Release date :
6 Nov. 2020