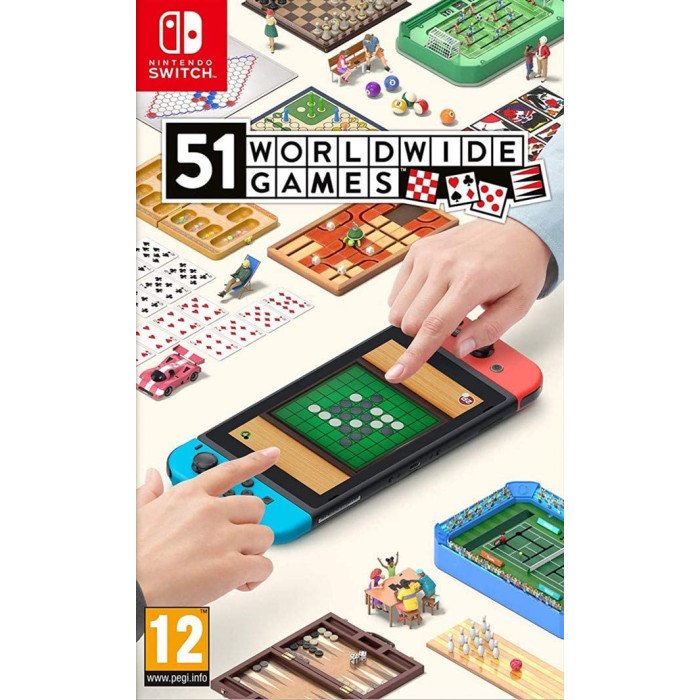 Out Of Stock
51 Worldwide Games Standard - Nintendo Switch
Stock:

Out Of Stock

Reward Points:

100

Model:

Switch Game

Weight:

0.50kg

SKU:

B07JD9QW38
Price in reward points: 14000
Play and discover 51 board games, table top games, and more all in one package? 51 Worldwide Classics. This diverse collection includes games from all over the world across multiple genres, from familiar favourites like Chess to international hits like Mancala that have been around for 100s of years!

Enjoy familiar favourites and learn hidden gems from around the world in this collection of 51 board games, table top games and more! Whether you like to sit and strategize or rely on reflexes, 51 Worldwide Classics contains games from across an array of genres for you to play and discover. Each game is presented with stunning detail as dice clack and marbles glimmer.

Strategic players will feel right at home with games like Four-in-a-row and Renegade, while those who prefer to use their reflexes can enjoy games like Slot Cars and Toy Boxing!

With board games, card games, sports, solitaires and more, 51 Worldwide Classics is an eclectic collection of games to play and discover on your Nintendo Switch.
Release Date: 5 Jun. 2020
Tabletop classics from around the world come together in 51 Worldwide Games on Nintendo Switch!
1) Mancala, 2) Hanafuda, 3) Backgammon, 4) Renegade, 5) Draughts, 6) President, 7) Dominoes, 8) Speed, 9) Hare and Hounds, 10) Blackjack, 11) Four-in-a-Row, 12) Chess, 13) Shogi, 14) Mini Shogi, 15) Ludo, 16) Riichi Mahjong, 17) Sevens, 18) Golf, 19) Darts, 20) Texas Hold'em, 21) Nine Men's Morris, 22) Air Hockey, 23) War, 24) Carrom, 25) Chinese Checkers, 26) Yacht Dice, 27) Takoyaki, 28) Billiards, 29) Hex, 30) Spider Solitaire, 31) Gomoku, 32) Matching, 33) Bowling, 34) Shooting Gallery, 35) Slot Cars, 36) Dots and Boxes, 37) Hit and Blow, 38) Pig's Tail, 39) Mahjong Solitaire, 40) Last Card, 41) Fishing, 42) Klondike Solitaire, 43) Toy Tennis, 44) Toy Football, 45) Toy Curling, 46) Toy Boxing, 47) Toy Baseball, 48) Battle Tanks, 49) Team Tanks, 50) Sliding Puzzle, 51) 6-Ball Puzzle
Phew, that's 51 games! There are many ways to play them. Some games are multiplayer, including options for up to four people, playing via local wireless, and in some cases, online play is supported, too.
Nintendo Play account required to download and install.